Women's Space Radio Show with host Elaine B. Holtz and guests Ken Norton on Timing and Leslie Graves on 2020 Women's Suffrage Centennial celebrations, has been uploaded to the web archive.  The show was recorded, broadcast in the North Bay and streamed worldwide over Radio KBBF 89.1 FM  on Monday 12/30/19 at 11 AM (repeats at 11 PM on KBBF) and repeat broadcast in Petaluma and streamed worldwide over Radio KPCA 103.3 FM on Wednesday 1/1/20 at 11 AM.
Listen to the show at:
—-
Timing
2020 Women's Suffrage Centennial Celebrations
—-
Featuring Guests
1. Ken Norton,  Co-producer, Women's Spaces; Producer, Scent of Light
2. Leslie Graves, Member, Steering Committee for the Sonoma County 2020 Suffrage Project;  and Coordinator for the Women's March Santa Rosa
—-
Announcements (Click for section below)
Herstory (Click for section below)
—-
Our Featured Guests
1.  Ken Nortonis stepping from behind the soundboard to the microphone for this show. We were going to introduce his segment with Buffy Sainte-Marie's song God is alive, Magic is afoot, but we had technical difficulties playing the CDs until our station's Program Director Edgar provided a magic fix, so Elaine read the lyrics (link), with Ken commenting on his appreciation for Magic humbling the mind's preconceptions and forebodings. Ken talks a bit about his entry into Community Radio in 1988 at Radio KKUP broadcasting out of Cupertino, CA with his show Humdrum, featuring voice and musical instruments from ages and cultures past and present. Besides co-producing Women's Spaces with Elaine B. Holtz, he produces a show for a 5-minute slot called the Scent of Light on Radio Spotlight Magazine, broadcast over Radio KOWS 92.5 FM in Santa Rosa the 2nd and 4th Sundays of the month. The Scent of Light episodes are meant to be an oasis for the listener during a news commentary show as a place in radio time to have to center oneself and then better discern and understand what is being heard.  Ken shares one of these episodes called Timing that was broadcast over the Winter Solstice.
About our Guest: Ken Norton earned his master's degree in Materials Science from Stanford University as the Vietnam War was ending. During that time Ken served as the personal assistant to a poet/sociologist Dr. William Hermanns as he prepared his writings for publication, exposing Ken to not only the sciences but also the humanities and comparative religion for making conscious and conscionable choices. Ken is the co-producer of Women's Spaces and partner of Elaine. Ken is a regular contributor to Radio Spotlight Magazine with his episodes on the Scent of Light.
Guest Links:  At this link you can read the transcript of the Timing episode on the Scent of Light
Scent of Light most recent episode and list of past episodes:  http://kennethenorton.com/SOL.html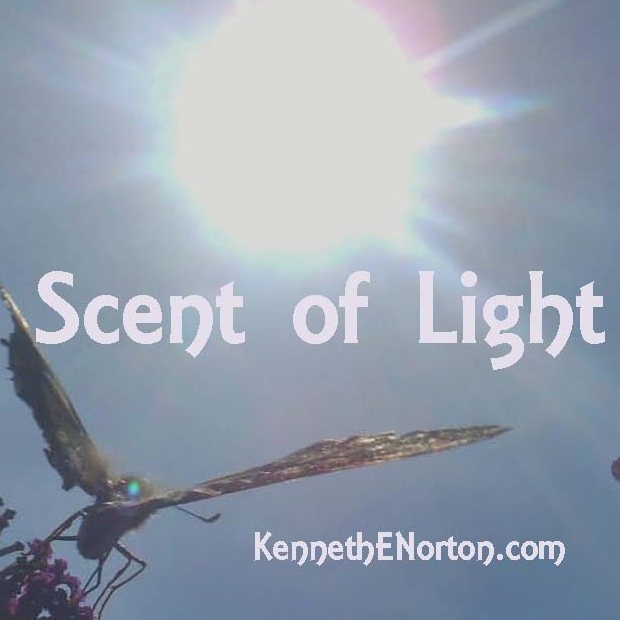 The Lyrics of God is alive, magic is afoot, based on Leonard Cohen's words, sung by Buffy Sainte-Marie:
God is alive, magic is afoot
God is alive, magic is afoot
God is afoot, magic is alive
Alive is afoot, magic never died

God never sickened
Many poor men lied, many sick men lied
Magic never weakened, magic never hid
Magic always ruled, God is afoot
God never died

God was ruler
Though his funeral lengthened
Though his mourners thickened
Magic never fled
Though his shrouds were hoisted, the naked God did live
Though his words were twisted, the naked magic thrived
Though his death was published, round and round the world
The heart did not believe

Many hurt men wondered, many struck men bled
Magic never faltered, magic always led
Many stones were rolled, but God would not lie down
Many wild men lied, many fat men listened
Though they offered stones, magic still was fed
Though they locked their coffers, God was always served

Magic is afoot, God rules
Alive is afoot, alive is in command
Many weak men hungered
Many strong men thrived
Though they boasted solitude, God was at their side
Nor the dreamer in his cell
Nor the captain on the hill

Magic is alive
Though his death was pardoned
Round and round the world
The heart would not believe

Though laws were carved in marble
They could not shelter men
Though altars built in parliaments, they could not order men
Police arrested magic, and Magic went with them
For Magic loves the hungry

But Magic would not tarry, it moves from arm to arm
It would not stay with them, magic is afoot
It cannot come to harm, it rests in an empty palm
It spawns in an empty mind, but magic is no instrument
Magic is the end

Many men drove magic, but magic stayed behind
Many strong men lied
They only passed through Magic and out the other side
Many weak men lied, they came to God in secret
And though they left him nourished, they would not tell who healed
Though mountains danced before them, they said that God was dead
Though his shrouds were hoisted, the naked God did live

This I mean to whisper to my mind
This I mean to laugh with in my mind
This I mean my mind to serve till
Service is but magic, moving through the world
And mind itself is magic coursing through the flesh
And flesh itself is magic dancing on a clock
And time itself, the magic length of God
https://genius.com/Buffy-sainte-marie-god-is-alive-magic-is-afoot-lyrics
—-
2. Leslie Graves talks of the Women's March and Rally to happen Saturday January 18th in Santa Rosa's Old Courthouse Square and the booths to expect.  Leslie has coordinated the event since 2017 and expects a large turnout of women with their men supporters in their parade fashions with colorful signs.  Leslie also talks about 2020 Women's Suffrage Centennial events and participation in floats in local parades.  She mentions the 2020 Rose Parade float honoring Women's Suffrage with the Statue of Liberty, of which the mock up is below, courtesy of MS Magazine.
About our Guest: Leslie Graves is a member of the Sonoma County 2020 Women's Suffrage Project steering committee. This is a year-long project to celebrate the centennial of the 19th amendment and create programs which explore the complex long history and continuing fight for inclusion of all women. They are a chapter of the California 2020 women's suffrage project which was created by the national women history alliance which was founded in Sonoma County, in order to support all 58 County California in creating celebration and educational opportunities for the public to engage in this historic moment.
Guest Links:
Women's March Santa Rosa fb page: https://www.facebook.com/srwomensmarch/
Sonoma County Women's Suffrage Project  https://socowomen2020.org/
—-
Compilation from the National Women's History Alliance
December 31, 1900 (1995) – Selma Burke, sculptor, part of the Black Renaissance under Augusta Savage, created the artwork for the "Roosevelt dime," established the Selma Burke Art Center in the early 1970s
January 3, 1949 – Margaret Chase Smith (R-Maine) starts her tenure in the Senate, where she stays in office until 1973, became the first woman to serve in both the House and Senate as she previously served in the House (1940-49)
January 5, 1925 – Nellie Tayloe Ross is inaugurated as the first woman Governor in U.S. history (Governor of Wyoming)
—-
December 31, 2019 New Year Eve's Party benefiting the Peace and Justice Center, at the Redwood Cafe, Cotati http://www.pjcsoco.org/nye-benefit-concert-for-pjc.html
—-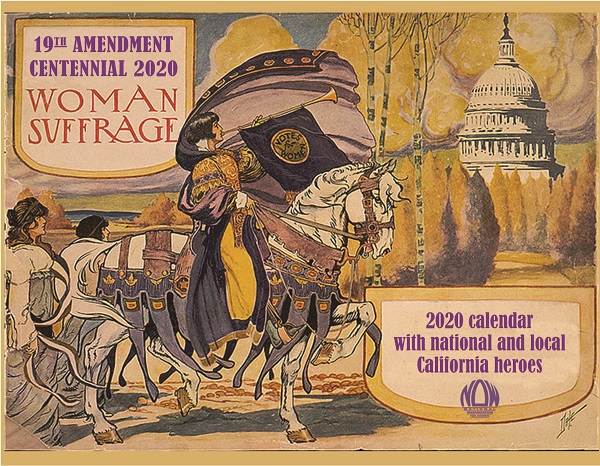 The NOW 2020 Woman Suffrage Centennial Calendar is available. Suggested donation $15. Contact NOW Sonoma at info@NOWSonoma.org
—-
Saturday, January 18, 10:00 AM to 1:30 PM, Women's March Santa Rosa, Old Courthouse Square, one of many around the nation: https://www.facebook.com/events/old-courthouse-sq-santa-rosa-ca-95404-united-states/womens-march-santa-rosa-2020/509576082928288/
Women's March Santa Rosa fb page: https://www.facebook.com/srwomensmarch/
—
Saturday, January 25, 2020, Building Neighborhood Power, presented by Santa Rosa Together, Santa Rosa Housing for All, The Sonoma Intersections Coaltion and the City of Santa Rosa. Join neighbors as we begin defining the types of services, structures and support we want in our neighborhood. With well-defined neighborhood visions, we can better help policymakers and developers deliver the neighborhoods of our dreams! We will be led by world-renown community builder, Jim Diers, the former Dir. of the Seattle Department of Neighborhoods and Professor at the University of Washington's Asset-Based Community Development Institute. Eventbrite link.
—-
Music Selections:
The Opening and Closing Theme song is with permission of the Composer and Singer Alix Dobkin:
The Woman in Your Life is You by Alix Dobkin from the album Living with Lavender Jane (Women's Wax Works) – www.alixdobkin.com
Auld Lang Syne sung by the Styilists from the album The Very Best Of The Styilists  (1975 Amherst Records)
—-
For music purchasing opportunity:
Link:Spinitron.com Playlist for Women's Spaces Show