Women's Spaces Radio Show with host Elaine B. Holtz  Commenting on Memorial Day with her Poetry and Songs of Women has been uploaded to the web archive.  The show was recorded, broadcast in the North Bay and streamed worldwide over Radio KBBF 89.1 FM  on Monday 5/25/2020 at 11 AM (repeats at 11 PM on KBBF) and repeat broadcast in Petaluma and streamed worldwide over Radio KPCA 103.3 FM on Wednesday 5/27/2020 at 11 AM.
Listen to the show on its archive page at:
—-
Memorial Day Commentary with Poetry and Song
—-
New as of 1/1/2020: Subscribe for Podcasts of the Show
via  this link for iTunes or via this link for Podcasts.com
—-
Featuring
1. Elaine B. Holtz, Host and Co-Producer, Women's Spaces, presents her Commentary and Poetry for Memorial Day
—-
Our Featured Presentations
1.  Elaine B. Holtz, Host of Women's Spaces, presents a commentary on Memorial Day spiced with her poetry and songs by women singers.  She reflects on the origins of Memorial Day that began with Abraham Lincoln setting aside a day to remember the fallen soldiers on both sides of the Civil War and of Mother's Day that began with women cleaning the Civil War battlefields of amputated arms and legs which inspired Julia Ward Howe to make her Mother's Day Proclamation.  Elaine reads two of her poems, Stopping the Next War and Why What Does All This Mean: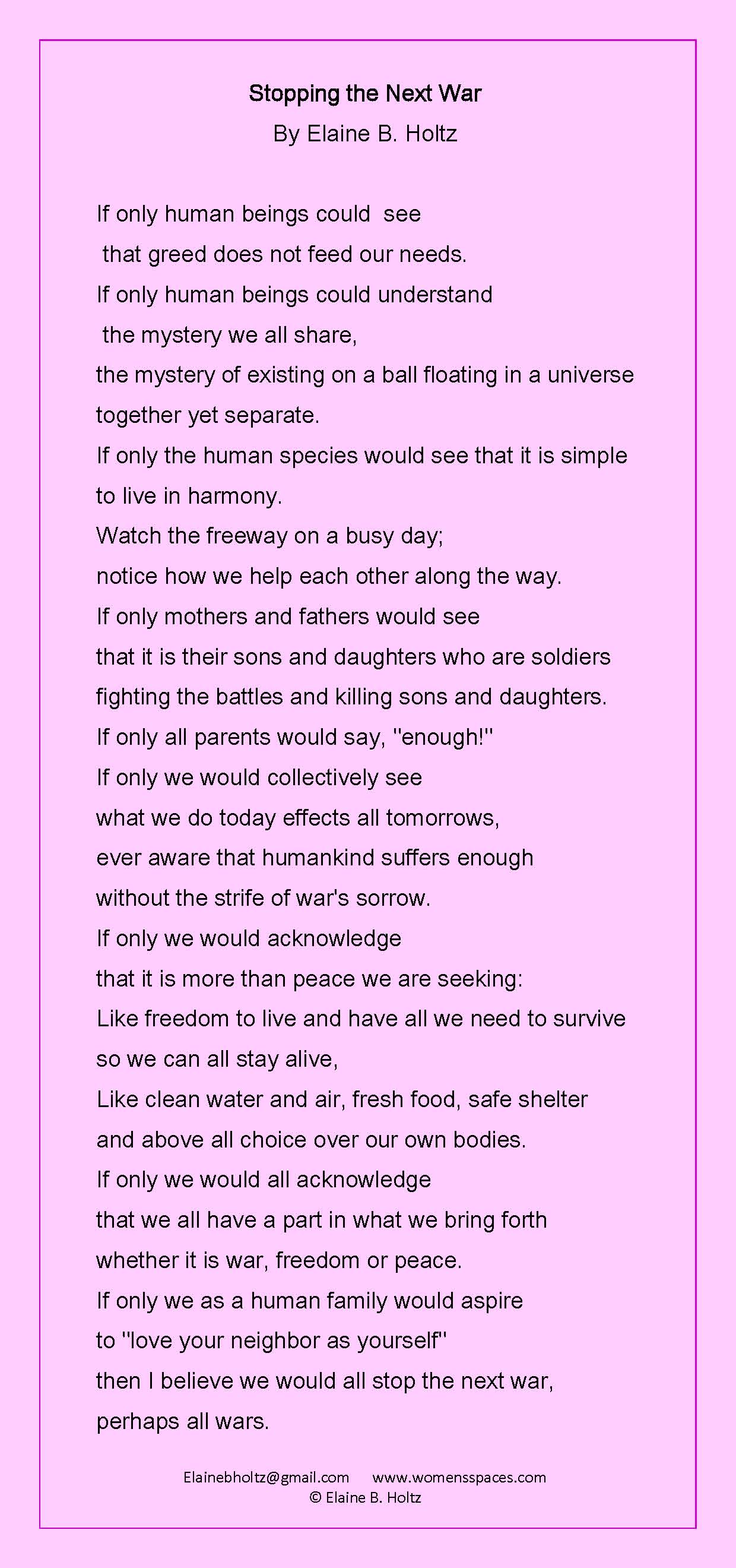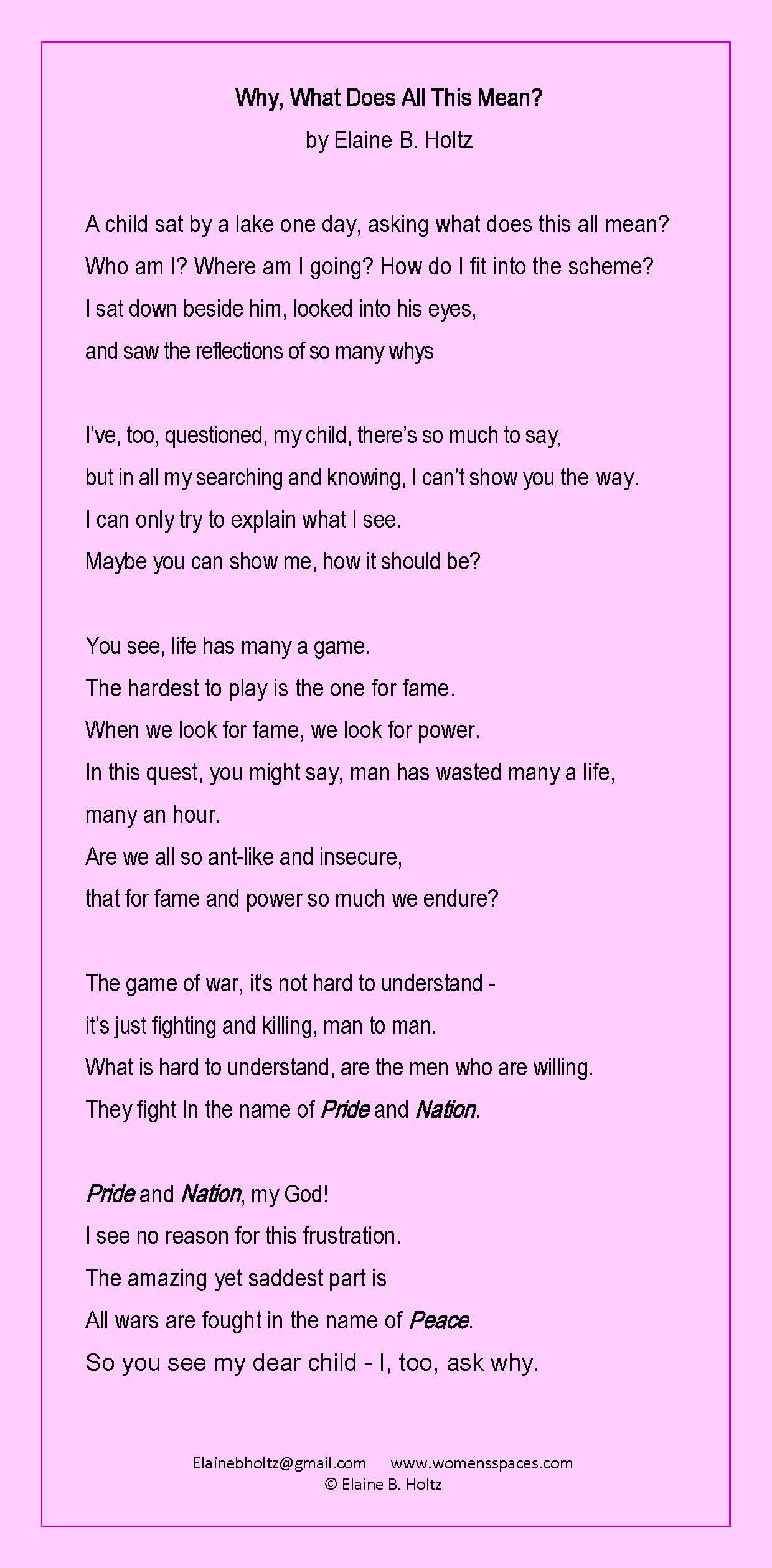 For more of Elaine's poetry visit the web page Poetry: I Am Woman
—-
A larger Compilation is at the National Women's History Alliance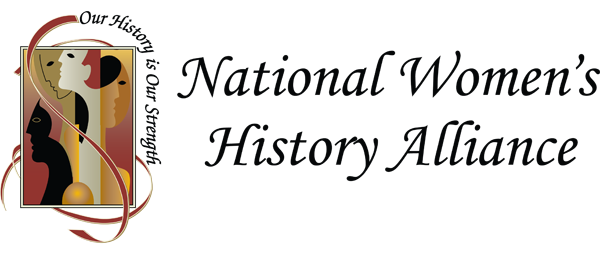 May 29, 1977 – Janet Guthrie becomes the first woman to qualify for and complete the Indy 500 car race
May 29, 1943 – "Rosie the Riveter" by Norman Rockwell appears on the cover of the Saturday Evening Post
Her Birthdays This Week
May 26, 1951 (2012) – Sally Ride, astrophysicist, first American woman astronaut
May 27, 1907 (1964) – Rachel Carson, scientist and environmentalist, wrote Silent Spring which became a cornerstone of the modern environmental protection movement
May 31, 1912 (1997) – Chien-Shiung Wu, renowned physicist, first Chinese-American elected to National Academy of Science (1958), first woman elected President of American Physical Society (1975), received National Medal of Science (1975)
May 31, 1924 (1985) – Patricia Harris, lawyer and ambassador, first African-American woman to hold a Cabinet position, Secretary of Health, Education and Welfare (1979-83), serve as an Ambassador (Luxembourg, 1965), and head a law school (Howard University, 1969)
May 31, 1928 – Sonia Pressman Fuentes, NOW co-founder, first woman attorney in the Office of the General Counsel at the EEOC
—-
Check links in case of postponement, cancellations, or restrictions due to pandemic precautions.
August 26 – November 8, 2020, Petaluma's Participation in the Women's Suffrage Movement, Petaluma Library and Historical Museum The Petaluma Museum Association's suffrage exhibit has been rescheduled. This postponement has provided the opportunity to coordinate the exhibit's opening reception with the national celebration of "Women's Equality Day". Mark your calendars for Wednesday, August 26th, 5 to 8 pm! The exhibit will be dedicated to our former Congresswoman, Lynn Woolsey, and our former Mayor, Helen Putnam, and we are delighted to report that Mayor Barrett will be attending the opening to bestow the honors.
https://www.petalumamuseum.com/2020/04/18/petalumas-participation-in-the-womens-suffrage-movement/
—-
January 25 through September 13, 2020,  From Suffrage to #MeToo at Museum of Sonoma County.  Please note: Fee is required for entry to museum. For more information visit https://museumsc.org/suffrage-metoo/
—-
League of Women Voters of Sonoma County has scheduled candidate debates and ballot measure discussions. See their webpage listing the events at https://www.facebook.com/lwvsonomacounty/
—–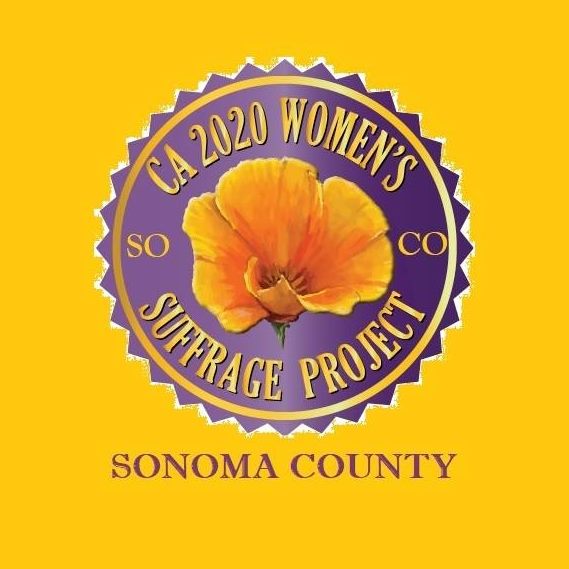 Sonoma County Women's Suffrage Project  https://socowomen2020.org/
with Calendar of related Events at https://socowomen2020.org/calendar
—-
The Opening and Closing Theme song is with permission of the Composer and Singer Alix Dobkin:
The Woman in Your Life is You by Alix Dobkin from the album Living with Lavender Jane (Women's Wax Works) – www.alixdobkin.com
Mother's Day Proclamation: by Julia Howe recited by Ghizela Rowe from the Album The Female Poet – Vol #3 (Portable Poetry 2011)

Travelin Soldier sung by Dixie Chicks from the album Top of the World Tour Live (2003 Columbia Records, A Division of Sony Music Entertainment)
The Rose sung by LeAnn Rimes from the album You Light Up My Light (Released 2007 Holly O'Reilly
Let There Be Peace by Becky Hobbs from the album Nanyehi (Released 2011@ 2011 Becky Hobbs)
—-
For music purchasing opportunity:
Link:  Spinitron.com Playlist for Women's Spaces Show