Women's Space Radio Show with host Elaine B. Holtz and guests D.A. Jill Ravitch and former Mayor Sharon Wright on Becoming Leaders, has been uploaded to the web archive.  The show was recorded, broadcast in the North Bay and streamed worldwide over Radio KBBF 89.1 FM  on Monday 3/9/2020 at 11 AM (repeats at 11 PM on KBBF) and repeat broadcast in Petaluma and streamed worldwide over Radio KPCA 103.3 FM on Wednesday 3/11/2020 at 11 AM.
Listen to the show at:
—-
Women Leaders on Becoming Leaders
New as of 1/1/2020: Subscribe for Podcasts of the Show
via  this link for iTunes or via this link for Podcasts.com
Featuring Guests
1. Jill Ravitch,   District Attorney, Sonoma County (First Woman DA in the County)
2. Sharon Wright,  Governmental Relations and Public Affairs consultant, Past (3 Terms) Mayor of Santa Rosa
—-
Our Featured Guests
1. Jill Ravitch and 2. Sharon Wright share their motivations to run for office and the challenges and opportunities they met as women. They both experienced defeat the first time election but persisted to win the next elections. Sharon and Jill discuss the belief in self that is needed and the learning from failed attempts. To mark International Women's Day, they talk of the mentors in their lives that were sources of encouragement.  Sharon shares how she and Dorothy Hutchinson became the first woman members of the Rotary Club in Sonoma County after the Supreme Court decision to open men's clubs to women. Jill talks about her role in forming the Family Justice Center as a collaborative effort of agencies in Sonoma County to address the needs of domestic violence victims. Both guests demonstrate the value of electing women to office.
 About our Guest:  Jill Ravitch is the first woman to serve as District Attorney in Sonoma County. She took office in 2011, and is now serving her third term. A graduate of UC Berkeley, Ms. Ravitch attended the University of San Francisco Law School, and upon graduation in 1987 began her prosecutorial career at the Alameda County District Attorney's Office.
Jill moved to Sonoma County in 1990 and joined the Sonoma County District Attorney's Office where she earned recognition for her prosecution skills, handling many complex and high profile sexual assault, domestic violence, gang violence and homicide cases.
During Jill's first term she opened the Family Justice Center, dedicated to providing wraparound services to victims of family violence, sexual assault, elder abuse and child abuse. She also established a dedicated elder protection unit and began an adult truancy program to hold parents accountable.
Under her leadership the Human Trafficking Task Force has become a model for other counties due to the collaboration of many agencies to engage in outreach, prevention and prosecution of offenders. Ms. Ravitch serves as an advisory member on many local boards, and is an adjunct professor teaching criminal law to first year students at Empire Law School.
Guest Link: Sonoma County District Attorney http://da.sonoma-county.org/
—-
About our Guest:   Sharon Wright is a Governmental Relations and Public Affairs consultant in Sonoma County; she served on the Santa Rosa City Council for 12 years and an unprecedented 3 terms as Mayor. During that time, she served 10 years representing the 9 cities and County on the Metropolitan Transportation Commission. . Currently she serves on the Board of Directors of Santa Rosa Memorial Hospital and Burbank Housing Development Corporation and in April she will be seated on the Summit State Bank Board of Directors.
Her community activities include Leadership Santa Rosa, founding Director of Tomorrow's Leaders Today and Goodwill Industries. In 2002, she was the first person to be named as the Best Community Business Leader by the readers of Sonoma Business magazine and was named Distinguished Citizen of the Year in 1996.
—-
A larger Compilation is at the National Women's History Alliance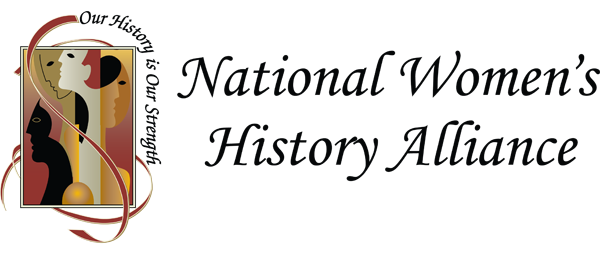 March 8:  International Women's Day.    In 1909 the first National Woman's Day was observed in the United States on 28 February. The Socialist Party of America designated this day in honor of the 1908 garment workers' strike in New York, where women protested against working conditions. The International Women's Day date was moved to March 8 in 1913. The day aimed to help nations worldwide eliminate discrimination against women. It also focused on helping women gain full and equal participation in global development.
 March 12, 1912 – Juliette Gordon Low assembled 18 girls together in Savannah, Georgia, for the first-ever Girl Scout meeting
March 12, 1993 – Janet Reno is sworn in as the first woman U.S. Attorney General
March 13, 1986 – Susan Butcher won the first of 3 straight and 4 total Iditarod Trail Sled Dog Races in Alaska
—-
Saturday, March 14, 2020 – 2:00 to 3:30 PM, Film Showing of California Women Win the Vote, Windsor Regional Library. The League is offering an historical movie event in partnership with the Sonoma County Library in Windsor. California women won the right to vote in 1911, nine years before the Federal Amendment. This fast paced 39 minute movie is about the hard fought campaign carried out by women and the men who supported them, as well as a look back in time of California history. There will be a discussion to follow. Come join us.
https://my.lwv.org/california/sonoma-county/event/movie-california-women-win-vote%E2%80%9D
—-
Saturday, March 14, 2020, 2 to 3 PM, Roundtable on Intersectional Feminism, Santa Rosa JC Lawrence A. Bertolini Student Center, presented by the Sonoma County Women's Suffrage Project 2020  https://www.facebook.com/events/2818248364937459/
—-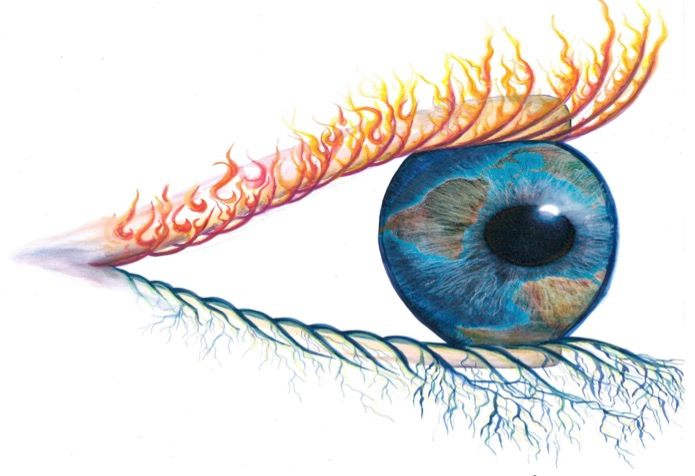 Sunday, March 15, 2020, 1 to 6 PM, It's Up to Us – 2020 Sonoma County Climate Activist Community Summit, Odd Fellows Hall, 545 Pacific Ave, Santa Rosa, https://www.facebook.com/events/895959717487236/
—-
April 19, 2020, 7 to9 PM, Rachel Carson Returns, starring Lilith Rogers. Presented by Sonoma County NOW and the Arlene Francis Center, at the Arlene Francis Center, 99 6th St., Santa Rosa, $10 Donation,  No one turned away.
Tel. (707)528-3009 or info@nowsonoma.org ; also arlenefranciscenter.org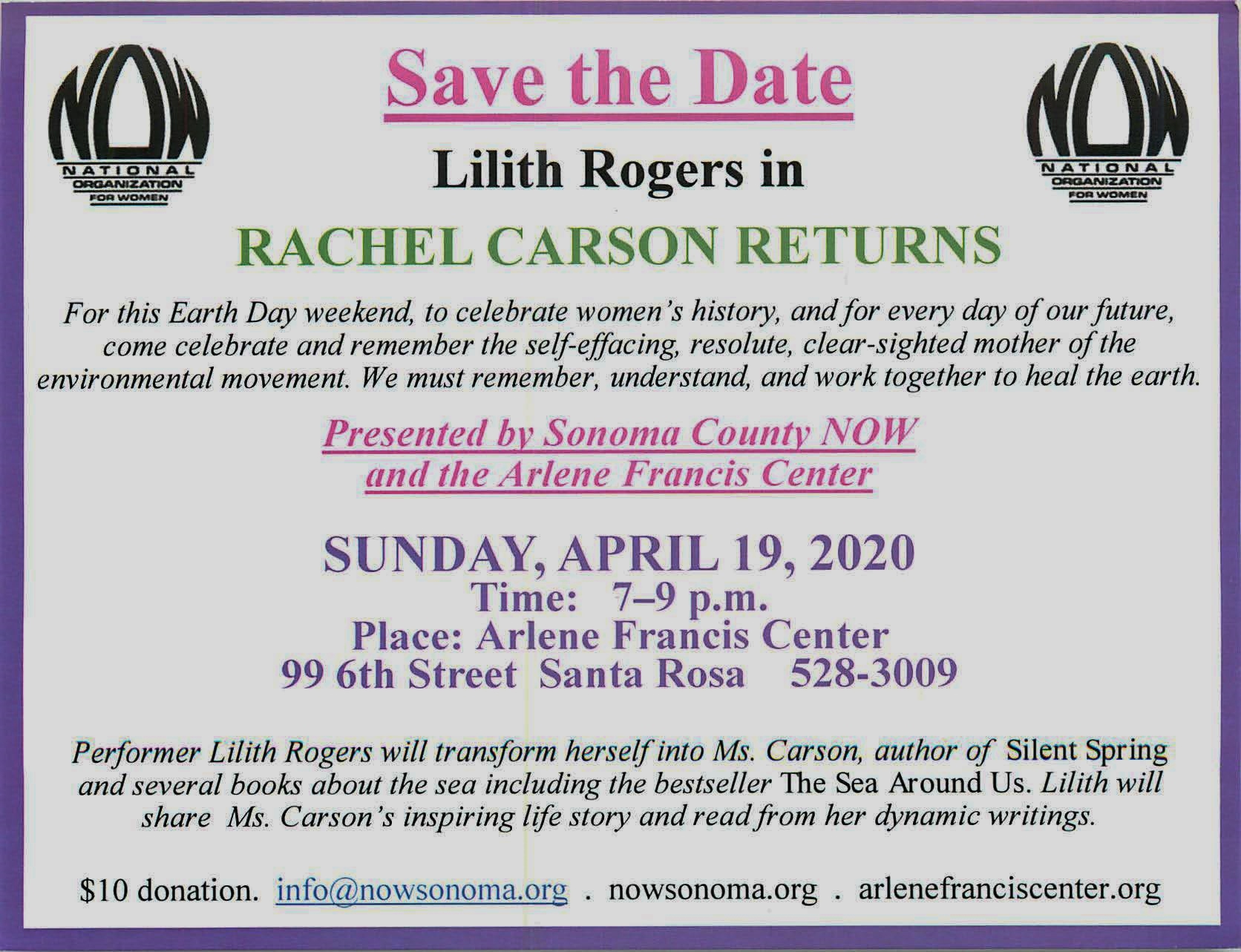 —-
The NOW 2020 Woman Suffrage Centennial Calendar is available. Suggested donation $15. Contact NOW Sonoma at info@NOWSonoma.org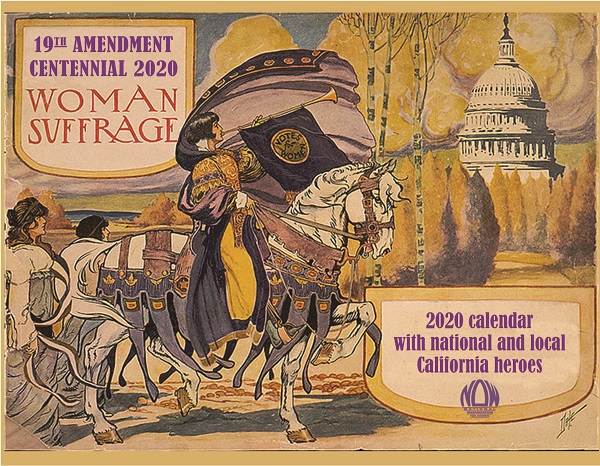 —–
January 25 through September 13, 2020,  From Suffrage to #MeToo at Museum of Sonoma County.  Please note: Fee is required for entry to museum. For more information visit https://museumsc.org/suffrage-metoo/
—-
League of Women Voters of Sonoma County has scheduled candidate debates and ballot measure discussions. See their webpage listing the events at https://www.facebook.com/lwvsonomacounty/
—–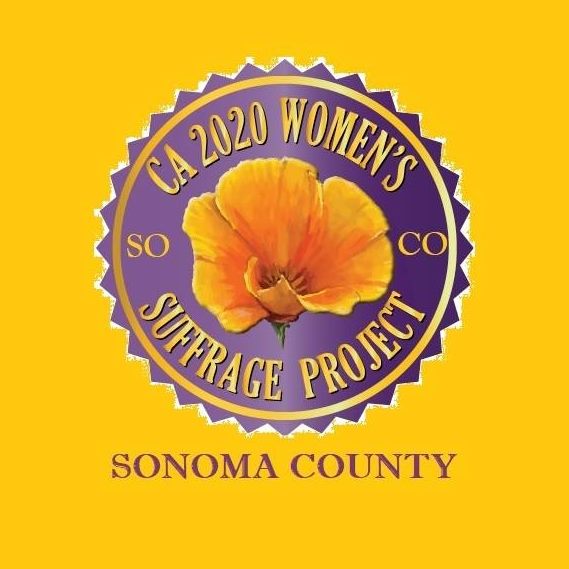 Sonoma County Women's Suffrage Project  https://socowomen2020.org/
with Calendar of related Events at https://socowomen2020.org/calendar
—-
The Opening and Closing Theme song is with permission of the Composer and Singer Alix Dobkin:
The Woman in Your Life is You by Alix Dobkin from the album Living with Lavender Jane (Women's Wax Works) – www.alixdobkin.com
Angels Among Us sung by Becky Hobbs from the Album Best of the Beckaroo (2011 Beckaroo Records)
Standing on the Shoulders sung by Earth Mama from the album Love Large (1996 Rouse House LLC)
—-
For music purchasing opportunity:
Link: Spinitron.com Playlist for Women's Spaces Show