Women's Spaces Radio Show with host Elaine B. Holtz and guest Joyce Johnson Rouse on Earth Mama's Mission, has been uploaded to the web archive. The show was broadcast in the North Bay and streamed worldwide over Radio KBBF 89.1 FM on Monday 10/12/2020 at 11 AM, repeats at 11 PM on KBBF, and then repeat broadcasts in Petaluma and streamed worldwide over Radio KPCA 103.3 FM on the following Wednesday 10/14/2020 at 11 AM.
Read description of the show and bios of the guests, see links referenced on the show and the playlist, on its archive page at:
—
New as of 1/1/2020: Subscribe for Podcasts of the Show
via this link for iTunes or via this link for Podcasts.com
Featuring Guest
1. Joyce Johnson Rouse, Musician and Songwriter Earth Mama
—-
Featured Guest:
1. Joyce Johnson Rouse, known as Earth Mama, a name given her by children for her children's songs on being good stewards of the Earth. Women's Spaces has played many of Earth Mama's songs over the years and is proud to present this interview. Joyce Rouse was inspired by her high school biology teacher and the first Earth Day in 1970 to dedicate her life to spreading Earth care and Ecology with the power of music. Joyce reminds us that the Suffragists used songs to empower their movement to achieve the women's right to vote. Her song, Standing on the Shoulders, was included in a new album called Songs of the Suffragists, featured just after Helen Reddy's I Am Woman and Aretha Franklin's Respect. Joyce just releases a new Earth Mama album called HerStory, from which we play 3 songs during this show, including a new release of Standing on the Shoulders. Listen in on this uplifting interview with Earth Mama.
About our Guest: Joyce Johnson Rouse was born on an Iowa farm, near Cresco, and from the time her tiny little toes dug into the rich dirt of a cornfield, passion began to sprout.
The seeds of her passion were fertilized by her family; by teachers who invited her to use music to encompass and explore ideas from all disciplines; by experiences in 4-H, at summer camps, and in the meadows and streams of her family farm; at college, where her understanding was pushed to a higher level; and in communities of locality and faith.
Joyce's young passion grew during her years in Nashville. Her work there strengthened her skills of songwriting and communication, and her advanced degree in science and environment became a trellis for the climbing tendrils of her beliefs.
The fruits of her efforts are the "Earth Mama" programs that use earth wisdom, music, and laughter to spread the message that the earth is a "Mama" for all of us. These programs are enjoyed by audiences of all ages and interests, twining together spirituality, education and entertainment, in celebration with the earth.
One of the most important aspects of Earth Mama's work is the re-seeding that happens during her work with others: ideas are planted in the rich, fertile soil of our souls, music warms us like sunlight and spring, and humor is sprinkled on like a good, organic "tea" as she involves us all in her work to "help heal the planet, one song at a time."
Guest Link: https://earthmama.org/
—-
Herstory
Check out important dates to remember in herstory at the National Women's History Alliance
Herstory Birthdays:
October 10, 1900 (1993) – Helen Hayes, actress and "First Lady of the Stage," began in stock companies, at 17 starred as Pollyanna, in 1930s starred as Mary Queen of Scotland and Queen Victoria, won first Tony award in 1947.
October 11, 1884 (1962) – Eleanor Roosevelt, civil rights advocate, feminist, author, world diplomat, former First Lady (1933-45).
October 12, 1908 (1997) – Ann Petry, reporter for African-American newspapers in 1930s, wrote The Street, first African-American novel to sell more than a million copies (1946).
October 13, 1897 (1979) – Edith Sampson, lawyer, first black American to be appointed as a United Nations delegate, first to be elected U.S. circuit judge.
—-
Annnouncements
Check links in case of postponement, cancellations, or restrictions due to pandemic precautions:
Beginning October 8, 2020, 50,000 Mice, the Selena Solomons Story, online theatre presentation as part of the exhibit Petaluma's Participation in the Women's Suffrage Movement, Petaluma Library and Historical Museum, the link will be posted October 8th at https://www.petalumamuseum.com/petalumas-participation-in-the-womens-suffrage-movement/
—-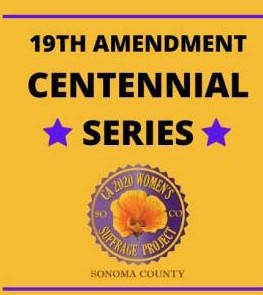 Sonoma County 2020 Women's Suffrage Project's
19th Amendment Centennial Series
has occured with live online presentations from
Tuesday, August 18 to August 26, 2020.
Visit the Project's YouTube channel main site for the 19th Centennial Series recordings of online presentationss at www.youtube.com/channel/UCqynwJCqhLMtPtjdDdsdQdQ
—-
The Women's Vote Centennial Initiative is a collaboration of women-centered institutions, organizations, and scholars from across the US, works to ensure that this anniversary, and the 72-year fight to achieve it, are commemorated and celebrated throughout the United States. www.2020centennial.org/.
—-
August 26 – November 8, 2020, Petaluma's Participation in the Women's Suffrage Movement, Petaluma Library and Historical Museum The Petaluma Museum Association's suffrage exhibit has been rescheduled. For details visit
—-
January 25, 2020 through (extended!) January 24, 2021, From Suffrage to #MeToo at Museum of Sonoma County. Please note: Fee is required for entry to museum. For more information, also for Covid precautions taken at museum, visit https://museumsc.org/suffrage-metoo/
—-
League of Women Voters of Sonoma County has scheduled candidate debates and ballot measure discussions. See their webpage listing the events at https://www.facebook.com/lwvsonomacounty/ and at http://lwvsonoma.org/
—–
Sonoma County Women's Suffrage Project https://socowomen2020.org/
with Calendar of related Events at https://socowomen2020.org/calendar
—-
Music Selections:
The Opening and Closing Theme song is with permission of the Composer and Singer Alix Dobkin: The Woman in Your Life is You by Alix Dobkin from the album Living with Lavender Jane (Women's Wax Works) – www.alixdobkin.com

Standing on the Shoulders sung by Earth Mama from the album Herstory (Released March 4, 2019 Rhm).

Herstory sung by Earth Mama from the album Herstory (Released March 4, 2019 Rhm).

Made For These Times sung by Earth Mama from the album Herstory(Released March 4, 2019 Rhm).
—-
For music purchasing opportunity: