Women's Space Radio Show with host Elaine B. Holtz and guest Shekeyna Black on the 2019 Peacemaker Awards and segment guest host Leslie Graves Interviewing Elaine on Finding Her Voice. has been uploaded to the web archive. The show was recorded, broadcast in the North Bay and streamed worldwide over Radio KBBF 89.1 FM  on Monday 11/4/19 at 11 AM (repeats at 11 PM on KBBF) and repeat broadcast in Petaluma and streamed worldwide over Radio KPCA 103.3 FM on Wednesday 1/4/19 at 11 AM. 
Listen to the show at:
—-
Sonoma County Peace and Justice Center Peacemaker Awards 2019
Finding Her Voice – The Interview of our regular host Elaine B. Holtz
—-
Featuring Guests
1. Shekyna Black,  Center Coordinator, Sonoma County Peace and Justice Center
2. Leslie Graves, Guest Host for today's second segment. Leslie interviews our regular host Elaine B. Holtz
—-
Announcements (Click for section below)
—-
Our Featured Guests
1.  Shekyna Black talks of the work of the Peace and Justice Center in Santa Rolsa and announces their Peacemaker Awards and Fundrasiser at the Old Redwood Cafe in Cotati on Saturday, November 9th.
About our Guest: Shekyna Black has been the Center Coordinator of the Peace & Justice Center of Sonoma County for 4 years. She grew up in Los Angeles County and moved to Sonoma County in 1986 to attend Sonoma State University where she earned a degree in Theatre Arts. She went on later to earn another Bachelors in Organizational Management and a Masters in Entertainment Business. She is passionate about music as a way to connect people from diverse backgrounds. Additionally, she has her own business called A Miracle Production that produces bands, concerts, festivals and events. She does bookings and publicity for shows at Redwood Cafe in Cotati. She is the Director of Entertainment for the publication, Upbeat Times. She is a mother to four adult kids.
Guest Links: www.pjcsoco.org
Guest Event:
—-
2.  Leslie Graves.is our guest host in this segment. Leslie interviews the regular host of Women's Spaces, Elaine B. Holtz. Leslie helps us discover when and how Elaine began to question the war policies of the USA and find her voice to express her concerns in spite of being raised with fervent patriotism by her immigrant father and first generation American mother .
About our Regular Host: Elaine B. Holtz is a longtime activist and producer of Women's Spaces on Public Access TV Santa Rosa, She is also President of the National Organization for Women, SC Chapter and writes the column, Santa Rosa SNippetts for the So County Gazette. She holds an AA degree in Journalism/Public Relations from Los Angeles City College. Her BA is from Sonoma State University in Sociology and her Masters degree from San Francisco State University is in Education. She believes women need to involved in the peace process and promote and support the idea that all women and children in are entitled to an environment that supports life and is safe and free of war and hunger.
About our Guest Host:  Leslie Graves is a member of the Sonoma County 2020 Women's Suffrage Project steering committee. This is a year-long project to celebrate the centennial of the 19th amendment and create programs which explore the complex long history and continuing fight for inclusion of all women. They are a chapter of the California 2020 women's suffrage project which was created by the national women history alliance which was founded in Sonoma County, in order to support all 58 County California in creating celebration and educational opportunities for the public to engage in this historic moment.
—-
Women's Herstory
California ratified the 19th Amendment on November 1, 1919 becoming the 6th State to ratify women's right to vote. By August of 1920, 36 states (including California) ratified the 19th Amendment, ensuring that the right to vote could not be denied based on sex.
—-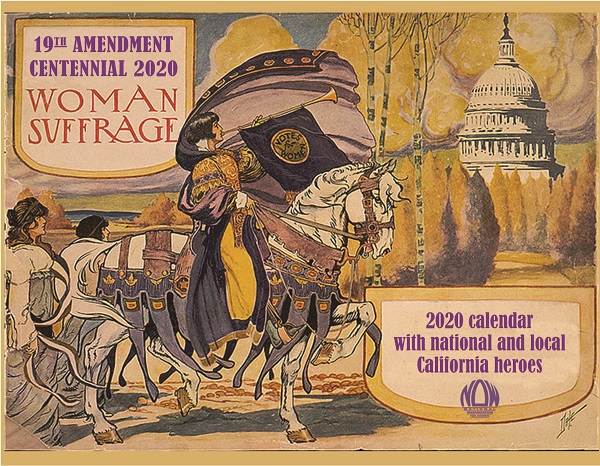 The NOW 2020 Woman Suffrage Centennial Calendar will be available for purchase at the Sonoma County Women's Suffrage Centennial Kick-off on December 8.
Sunday, December 8, 2019, 2:00 to 4:00 PM, Sonoma County Women's Suffrage Centennial Kick-off, Saturday Afternoon Club, 430 10th St, Santa Rosa. Seating is limited to 70 people so please RSVP at fb Event Page: https://www.facebook.com/events/395937627766549/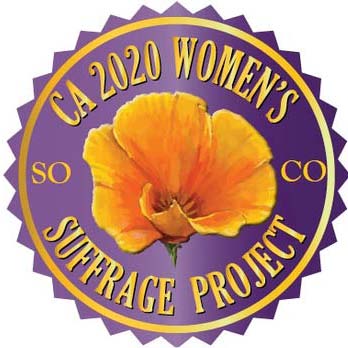 —-
Music Selections:
The Opening and Closing Theme song is with permission of the Composer and Singer Alix Dobkin:
The Woman in Your Life is You by Alix Dobkin from the album Living with Lavender Jane (Women's Wax Works) – www.alixdobkin.com
Angels Among Us sung by Becky Hobbs from the album Best of the Beckaroo – Part One (Beckaroo Records)
I Am Woman sung by Pink Martini from the album I Am Woman – Single (Audiogram)
—-
For music purchasing opportunity:
Link to Spinitron.com Playlist of the Women's Spaces Show