Women's Space Radio Show with host Elaine B. Holtz and guests Sabra Briere on Indivisible Sonoma's Impeach & Remove Rally of last Tuesday 12/17, has been uploaded to the web archive.  The show was recorded, broadcast in the North Bay and streamed worldwide over Radio KBBF 89.1 FM  on Monday 12/23/19 at 11 AM (repeats at 11 PM on KBBF) and repeat broadcast in Petaluma and streamed worldwide over Radio KPCA 103.3 FM on Wednesday 12/25/19 at 11 AM.
Listen to the show at:
—-
Recap of the Impeach & Remove Rally of 12/17
Featuring Guests
1.Sabra Briere,  Co-founder, Indivisible Sonoma
—-
Announcements (Click for section below)
Herstory (Click for section below)
—-
Our Featured Guests
1. Sabra Briere reports on her experience at the Impeach and Remove Rally on Tuesday 12/17/19  at Santa Rosa's Old Courthouse Square, one of many occuring around the nation on the eve of the Impeachment vote in the U.S. House of Representatives.  Many clever and humorous signs were hand created for the rally by the participants.  Sabra discusses some of the ways Indivisible Sonoma is helping to influence the Senators in their trial of the President now impeached on whether he should be removed from office.
About our Guest:  Sabra Briere served as a City Council Member of Ann Arbor, MI. In January 2017 Sabra and her husband moved to Santa Rosa to be closer to their son's growing family. She immediately became involved in our community by becoming a member of Indivisible Sonoma County at their first general meeting in January 2017, and has become an active member of the local Democratic Party, and volunteers for the City of Santa Rosa. Sabra became leader of Indivisible Sonoma County last fall, following the resignaton of the founder, Karen D'Or. Sabra spoke at the Women's Rally at the Old Courthouse Square in Santa Rosa on January 20, 2018. Passionate about free speech, education, the environment, and civic responsibilities, Sabra brings her energy and her insights to our local issues.
Guest Links: Indivisble Sonoma County www.indivisiblesoco.com
www.facebook.com/IndivisibleSonomaCounty
—-
December 22, 1912 (2007) – Claudia "Lady Bird" Taylor Johnson, First Lady (1963-69), advocate for civil rights, National Chair of Head Start, led "Beautification" efforts across the country involving environmentalism, conservation, and anti-pollution
December 24, 1951 (1998) – Marsha Gomez, activist, used pottery and sculpture from her Choctaw ancestry to teach and further demand rights for indigenous women of many cultures, achieved NGO status for indigenous women in the United Nations, began the Foundation for a Compassionate Society with a group of about 20 artists.
December 25, 1806 (1875) – Martha Wright, called the first Woman's Rights Convention in Seneca Falls in 1848 with her sister Lucretia Mott, Elizabeth Stanton and others, president of women's conventions in 1855 in Cincinnati, Saratoga, and Albany, a founder of the American Equal Rights Association in 1866, continued working for equal suffrage during Civil War,
December 25, 1821 (1912) – Clara Barton, founder and president of American Red Cross, 1881-1904
December 27, 1930 (1999) – Mary Ellen (Meg) Greenfield, named editorial editor at "Washington Post" in 1979 after winning a Pulitzer Prize, penned commentaries on civil rights, integration, nuclear arms and the military establishment
December 28, 1894 (1988) – Burnita Matthews, suffragist, as a young law student in the District of Columbia learned that she could carry a banner outside the White House but would be arrested for not having a permit if she spoke, stayed silent and avoided arrest, gained admission to the bar in 1920, worked for the National Woman's Party, chosen as Federal District Court Judge by President Truman in 1949.
December 29, 1937 (1990) – Thea Bowman, first black Catholic nun to join white Franciscan Sisters of Perpetual Adoration in the 1960s, worked with issues of racial inequality
—-
Graton Against Synthetic Pesticides with petition online: www.gratongasps.com
Women's Spaces featured GASP on the show of December 2, 2019. Click the button link: 
—-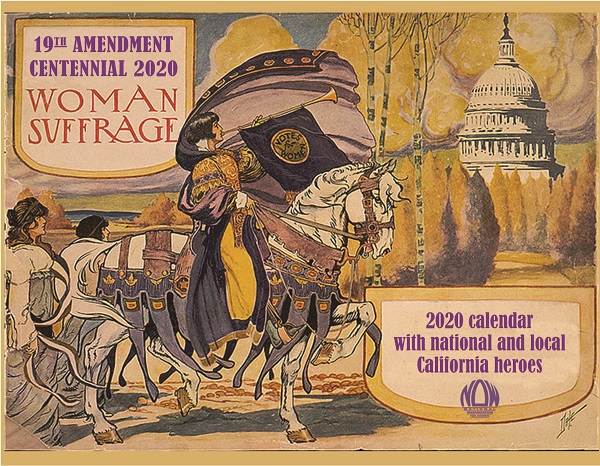 The NOW 2020 Woman Suffrage Centennial Calendar is available. Suggested donation $15. Contact NOW Sonoma at info@NOWSonoma.org
—-
Saturday, January 18, 10:00 AM to 1:30 PM, Women's March Santa Rosa, Old Courthouse Square, one of many around the nation: https://www.facebook.com/events/old-courthouse-sq-santa-rosa-ca-95404-united-states/womens-march-santa-rosa-2020/509576082928288/
Women's March Santa Rosa fb page: https://www.facebook.com/srwomensmarch/
—-
Saturday, January 25, 2020, Building Neighborhood Power, presented by Santa Rosa Together, Santa Rosa Housing for All, The Sonoma Intersections Coaltion and the City of Santa Rosa. Join neighbors as we begin defining the types of services, structures and support we want in our neighborhood. With well-defined neighborhood visions, we can better help policymakers and developers deliver the neighborhoods of our dreams! We will be led by world-renown community builder, Jim Diers, the former Dir. of the Seattle Department of Neighborhoods and Professor at the University of Washington's Asset-Based Community Development Institute. Eventbrite link.
—-
Music Selections:
The Opening and Closing Theme song is with permission of the Composer and Singer Alix Dobkin:
The Woman in Your Life is You by Alix Dobkin from the album Living with Lavender Jane (Women's Wax Works) – www.alixdobkin.com
If Women Ruled the World sung by Joan Armatrading from the album Square the Circle (1992 A&M Records Ltd.)
What on Earth sung by Earth Mama from the album Love Large (1996 Rouse House, LLC)
Rocking Round the Christmas Tree sung by Brenda Lee from the album Rocking Round the Christmas Tree (This Compilation@1999 MCA Nationalvlle)
—-
For music purchasing opportunity:
Link:Spinitron.com Playlist for Women's Spaces Show